This is a WebSDR receiver located in Grimsby, operated by Matt. Big thanks to Barney for helping me get this site up and running. Email: Matt-44@hotmail.co.uk

Using a Nooelec RTL Dongle with Nooelec v1.3 upconverter connected to a wellbrook loop antenna facing 140° South East / 320° North West.

Using another Nooelec RTL Dongle with v1.3 upconverter connected to a Sony AN 1 Whip For 9mhz & secondary Loop Facing East/West for LW/MW Reception.

You can widen the filters to gain better sound quality and narrow them to avoid adjacent qrm.

Greatest hits is on 1161khz, Absolute:1215(better on West loop), Talksport: 1053, BBC 5 live: 909 or 693, BBC R4 198.

The Mobile version of this site can be found here http://grimsbysdr.ddns.net:8073/m.html

Tip For Mobile users: If you directly enter the frequency 20khz on the mobile site you can tune MW/LW via the E/W Loop: To get back to the SE/NW loop enter the frequency 2100khz and then tune around.

More info can be found at the bottom of the page.

If you type your name into the box below the flags then it will show your personal name instead of IP address in the user box at the bottom of the page.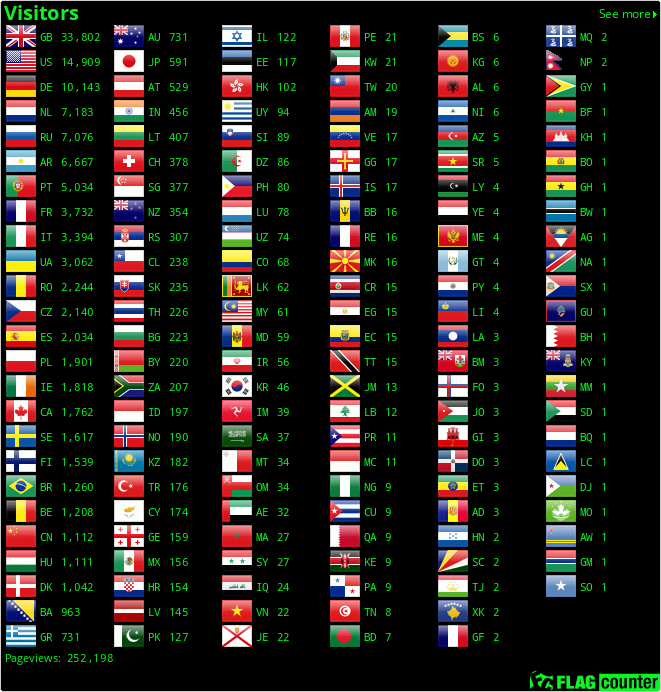 It seems you are using a mobile device; click here to switch to the mobile version of this site.
It seems Java is not installed or disabled on your computer. You need to install and/or enable it for this website to work properly.
Since Java version 7u51, Java needs to be enabled separately for each website; see
http://websdr.org/java.html
for instructions.
Your browser does not seem to support HTML5 WebAudio; please try a recent version of Firefox, Chrome, Opera or Safari; or switch to Java.
---



Waterfall view:
Or use scroll wheel and dragging on waterfall.
Speed:
Size:
View:
Bandwidth:
?
kHz @ -6dB;
?
kHz @ -60dB.
Or drag the passband edges on the frequency scale.

?
dB; peak
?
dB;
mute squelch autonotch
Volume:
---
Gain control:
automatic manual
Gain:
---
Signal strength plot:
---
---
Chatbox:
This chatbox is intended to discuss the operation of the WebSDR.
The operators of this site disclaim any responsibility for text appearing in this chatbox.
---
Statistics:
---
No audio in Google Chrome fix: chrome://flags/#autoplay-policy then change the option to no user gesture required. Also try changing Autoplay ignores WebAudio playbacks to enable.

Update: 07-01-19: Viking 2 1161 rebranded to Greatest Hits Radio.

Update: 31-12-18: Belgium ceased broadcasting on 621 and 1125 at 19.00 utc. Netherlands ceased broadcasting on 1008 at 00.00 UTC

Update: 16-09-18: Added extra filter options to the mobile site & added manual gain control to the desktop site.

Update: 23-06-18: Added a second loop facing West, this is good for RTE 252, BBC 198 & 909 and Absolute 1215.

Update: 19-06-18: Local Absolute Radio Transmitter on 1215 was switched off just after 11.03AM, 1215 is now better on the West facing loop as the signal comes from Huddersfield.

Update: 11-03-18: Raised the Whip antenna by about 2 Meters, this has increased it's sensitivity a little.

Update: 11-01-18: BBC Humberside ceased broadcasting on 1485khz at 12:07pm. TX Switched off for good 29-1-18 at 2:01pm.

Update: 04-01-18: BBC Lincolnshire ceased broadcasting on 1368khz at 11:03am. TX switched off for good 30-1-18 at 11:15am.

Update: 14-09-17: Built a new PC just for hosting the websdr with 4GB ram and a AMD 6400 3.7ghz dual core processor. Server can now handle 80 simultanious users.

Update: 14-09-17: Added LW/MW Via omni directional whip antenna

Update: 25-06-17: Added 48M shortwave, but I can not do much about the local QRM sadly:(

Update: 22-05-17: Changed the acer laptop that I first used to set up the WebSDR that kept freezing for a used HP DC-8000 mini desktop, the server can now handle 40 simultaneous users. Total server downtime was around 4 hours.

November 27th 2016, WebSDR first came online hosting just the LW/MW Band via an Acer Laptop.

More information about the WebSDR project can be found on http://www.websdr.org.